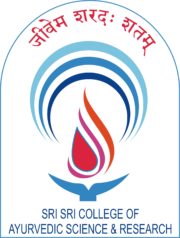 Sri Sri College of Ayurvedic Science And Research Hospital Bangalore
Bengaluru,Karnataka,India
Ayurveda

Co - Education

ESTD 2004

CCIM

RGUHS

ENTRANCE
Interested in this College?
About Us
Sri Sri College of Ayurvedic Science And Research Hospital Bangalore Karnataka Sri Sri College of Ayurvedic Science & Research Hospital SSCASRH is an initiative of Sri Sri Ravishankar Vidya Mandir (SSRVM) Trust, a charitable, spiritual and educational public institution involved in imparting quality education, research and vocational guidance in various fields of ayurveda. SSCASRH ' vision is to spread the precious knowledge of ayurveda of ancient India and its benefits to every part of the world and to produce good Physicians, Surgeons, Ayurvedic Scholars and Teachers who are fully competent to serve the community and conduct research activities. SSCASRH is Affiliated to Rajiv Gandhi University of Health Sciences, Bangalore , Recognised by CCIM and Approved by Ministry of Health and Family Welfare, Govt. of India.
About Principal
Dr. P. Ramesh Bhat
He is presently working as Principal, Professor & HOD of Post Graduation Dept. of Shalya Tantra at SSCASR. He is founder Staff of our esteemed institution and also Former Medical Superintendent of SSCASRH .He is having more than 17 years of Teaching and clinical experience in Surgical Discipline of Ayurveda.He has Medicine Degree in Ayurveda (BAMS) at Koppa of Karnataka with First rank and Gold medal.
Later he has done Master of surgery in Ayurveda at Rajiv Gandhi University of Health Sciences, Bangalore, completed PhD at Banaras Hindu University, Varanasi. He has completed 'Diploma in pharmacy' at College of Pharmacy, KMC, Manipal. He treated World First Complex and Challenging case reported 'complex anal fistula with foot extension' successfully by Ayurveda technique – ksharasutra therapy. He has published in international journal of surgery.He has presented paper on 'Day care proctology in Ayurveda' presented 1250 case study in 'International conference on surgery' at Las Vegas, USA. His first paper presented in international conference about Ayurveda surgery.He has treated more than 2000 cases of haemorrhoids by ksharatherapy without complications and with high success.He has participated as Resourse person/ guest speaker in different national and international workshops and conferences.He has developed unique and most convenient instruments used for anorectal surgeries. He has published scientific articles in National and International Journals.
Facility
Library
Laboratory
Hostel
Canteen
Transportation
Medical
Our Gallery
Infrastructure / Facilities
Library
Hostel
Labs
Auditorium
Hospital
Sports
Location & Contacts
Survey No.269/270, B.M. Kaval, Udayapura P.O., 21 KM, Kanakapura Rd, Bengalore, Karnataka 560082
Website : www.sscasrh.org
Mobile Number : 080679 76767
Whatsapp Number : +919901636600