The Oxford College of Science Bangalore
Bengaluru,Karnataka,India
No.of Views: 1590
College
Co - Education
ESTD 1994
Arts, Science & Commerce
Interested in this College?
Gallery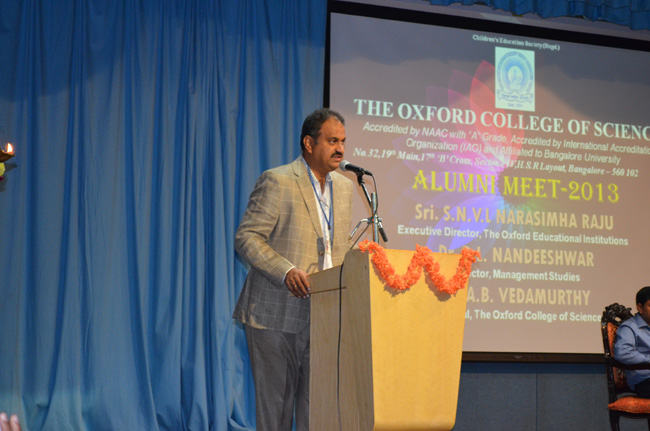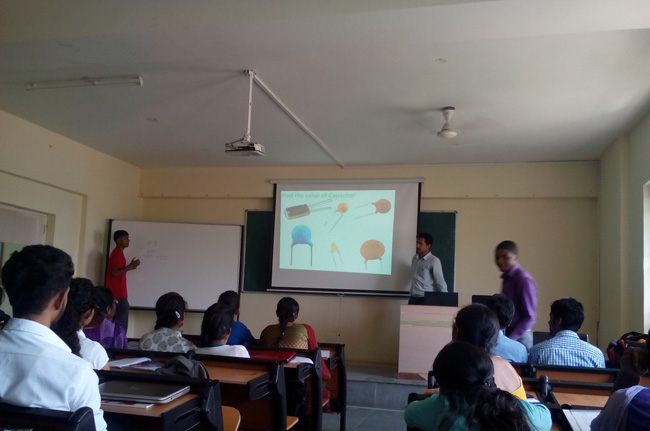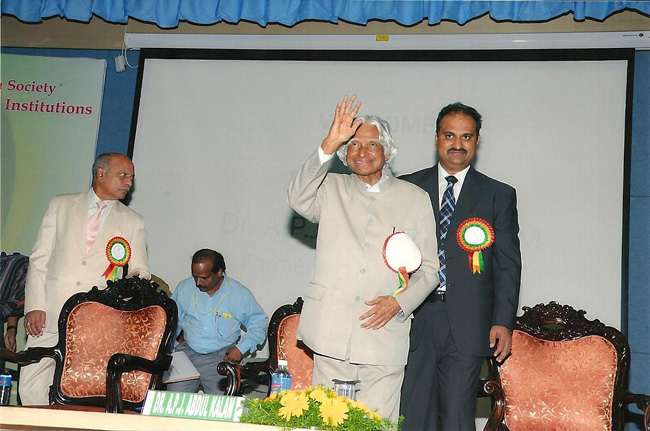 Vision & Mission
Vision
To participate in the nation's march towards a knowledge society by nurturing intellectual growth and sound value systems in students through science education.
Mission
Our mission is to realize the empowering and ennobling aims of education through scientific knowledge and research by providing an excellent learning environment with emphasis on values.
Principal's Message
Dear Student,
The Oxford College of Science, since its inception in 1994 has grown from strength to strength and today is recognized for its excellence in infra-structure and academics. We offer graduate and postgraduate programs and more than 2000 students are being groomed here to excel in their area of specialization. The Oxford College of Science is accredited by NAAC with 'A' grade, International Accredidation Organization (IAO), approved by AICTE and has been recognized by UGC under section 2(f) and 12(B). Relentless focus on quality of education over the years has resulted in the college achieving the No. 2 rank in Karnataka and No. 8 in India in the India Today-Nielson survey, 2017. This is also corroborated by the No. 5 in Karnataka and No. 32 in India ranking accorded by The Week-Hansa Research Survey.
The college is also growing in stature globally with students from countries as diverse as Cambodia, Nigeria, Kenya, Srilanka, Nepal, Bangladesh and Malaysia coming to pursue further education at Oxford.
The faculty members are highly passionate about imparting the best quality of education stressing both on knowledge and values. This ensures that graduating students are not only intellectually sound but also become socially responsible citizens. This is also evidenced by the students securing university ranks consistently over the years.
The infrastructure offered by the college for all-round learning is amongst the best. Apart from the well-equipped laboratories, ICT enabled classrooms, library and state-of-the-art computer centre, the college has career guidance, placement and counselling centre. The centre guides students to suitable career and helps them cope with emotional problems. Our alumni today hold important positions in both public and private sector companies. The college has also provided Parent Relation Officer exclusively catering to the needs of parents and their wards. The college has given a strong impetus to research. Over the years the college has received several grants such as Centres of Innovative Science & Engineering Education (CISEE), Karnataka Fund for Improvement of Science and Technology Infrastructure (K-FIST) from VGST, Department of IT, BT, S & T, Government of Karnataka. Several UG and PG Science students have received grants to pursue innovative science projects under Science Projects in College Education (SPiCE) scheme from VGST, GoK. Additionally, Biotechnology Finishing School (BTFS) which was established five years ago has now been recognized under Biotechnology Skill Enhancement Program (BiSEP) by KBITS, GoK. A large number of students and faculty have presented papers at both National and International Conferences and many have published their work in research journals of repute. Recognizing the vibrant research culture, DST, GoI is supporting the college under its FIST program.
The college strongly believes in holistic development of students and hence co-curricular activities are given due importance. I welcome all prospective young minds to join this enthusiastic family of Oxfordites in your pursuit of self-actualization.
I wish a very bright future and success in all your endeavours.
Dr. R. Kavyashree
Principal
The Oxford College of Science
Departments
Department of Computer Science

Department of Electronics

Department of Biotechnology

Department of Zoology

Department of Biochemistry

Department of English

Department of Microbiology

Department of Fashion And Apparel Design

Department of Applied Genetics

Department of Statistics

Department of Chemistry

Department of Mathematics

Department of NSS

Department of Physics

Department of Sports
Facility
Library

Hostel

Auditorium

Computer centre

Internet Facility

Laboratories

Sports

Transportation
Alumni
The idea of forming an association of past Oxford-ites stemmed from the pull of an emotional bond with the college where students spend crucial years of their lives. The Oxford has produced more than 25,000 graduates who have contributed immensely to the industry both in India and abroad. Our alumni meets annually on the third Saturday of January to retrospect the role the institution has played to perfection in shaping the future of these young minds. The alumni get-togethers have provided a new forum to form new friendships and business relationships with people of similar background. This networking has resulted in career opening for many.
Placement
About the Placement and Training Cell
The Oxford College of Science has an independent placement office focused to cater to the needs of leading organizations in conducting campus interviews for the final year students of M.Sc, MCA, MA (English literature) and other UG courses. It is headed by a senior professor (Dean HR and Placement) with additional charge and supported by a full time, permanent placement officer. The office is assisted by student representatives from various branches of study. The placement office ensures and takes care to provide the best arrangements and hospitality to the HR team from various companies.
Goal of Placement &Training Cell
The goal of the Training & Placement is to provide career guidance and training program, enable the students to gain a competitive edge in the recruitment process, groom their confidence and developing their personality to achieve 100% placement for all eligible students in reputed companies and Institutes.
The institute provides the complete infrastructure for campus recruitment with an objective of transforming students to young professionals. To achieve this pre-placement training activities are organized throughout the year by inviting various industries and professional trainers. Reputed companies across the country visit the institute regularly for the campus recruitment programs.
Policy for the Students
All final year students of undergraduate and postgraduate courses are eligible to participate in pre placement activity.

All students seeking Placement Assistance are required to enroll their name in the Training and Placement cell.

The student will also have to give their preferences before the start of placement process to the Training & Placement cell.

If a student is selected, the job is registered against him/her and he/she would not be allowed to appear for more interviews.

Students should be in formals for the placement drive.
Pre Placement Training
Pre placement training is given to the final year students of each course through.
1. Knowledge inputs from outside consultant.
2. Soft skill training through Placement officer.
3. Interaction through Alumni and Industrial professionals.
4. Conducting mock interviews with the assistance of senior professors from each department.
Educating the students on placement policy and procedures, directing them on resume preparation, and the various activities related to institute-industry interaction.

Organizing workshops for students to bridge the gap between Industries –Academics.
Location & Contacts
No.32, 17th B Main, Sector IV, HSR Layout, Bengaluru, Karnataka - 560102
Website : www.theoxford.edu