Cauvery College of Physiotherapy Mysuru
Mysore,Karnataka,India
Physiotherapy

Co - Education

ESTD 2016

IAP

RGUHS

ENTRANCE
Interested in this College?
About Us
Cauvery College of Physiotherapy Mysuru Karnataka Cauvery Group of Institutes was started by the tireless effort of Dr.Chandrasekar.G.R with constant support from Dr.saralaChandrasekar in the year 2003. The institute started growing to meet and fulfill the global demands of graduate nurses. The institute reached the next mile stone in the year 2008, when it was promoted to a P.G college with M.Sc.To promote and give opportunity to all diploma holders for graduation, in 2009 Post BSc (N) programme was started. And in 2016-17 we have started allied Health Science and Physiotherapy course such as B.Sc in Cardiac care technology, B.Sc in Cardiac Perfusion technology, B.Sc Respiratory care technology, B.Sc Operation Theater * Anesthesia technology, B.Sc Medical Laboratory technology and B.Sc Medical Imaging technology. Our further goal and effort was to meet the emerging requirements for efficient and technically capable candidates in the field of. Allied Health Sciences, which became fruitful in the year 2010.The academic capabilities of the institution thus reached new heights when it got affiliated to RGUHS for conducting graduate programmes in Allied Health Sciences courses such as BSC Operation theatre Technology, B.Sc. Medical Laboratory Technology, BSc Imaging technologies , B.Sc. perfusion care Technology, B.Sc. Cardiac care Technology, B.Sc. Respiratory care Technology.
Facility
Hostel

Mess / Cafeteria

Scholarship

Internet & WI-FI

Library

Transport

Students cum staff clinics
Vision & Mission
Vision
To have the Cauvery College of Physiotherapy recognized as the premier course, cultivating the highest calibre physical therapists who improve individual and societal health through innovations in education by critical thinking and creativity, fostering evidence-based clinical practice, leadership and research.
Mission
To prepare the student physiotherapists to be responsible health care providers who demonstrate core professional values through education, Scholarly activities, address the needs of the individual across the lifespan, and embrace patient-centered practice in the community.
Principal's Message
Hello everyone,
Physiotherapy is an evolving profession which uses proven techniques to help restore movement and function through a holistic approach when someone is affected by injury, illness or disability. It helps to encourage development and facilitate recovery with hands-on clinical skills to assess, diagnose, treat and set personalised goals to people to stay in work while helping them to remain independent for as long as possible without the use of drugs or surgery.
Our Cauvery College of Physiotherapy has been established in 2017 with an yearly intake of 60 students and is affiliated and recognised by Rajiv Gandhi University of Health Sciences, Bangalore, Karnataka and its attached with own 200 bedded multispecialty hospital.
The development of a quality educational system largely lies on the committed members of the faculty, quality infrastructure, supportive administration, large pool of learning resources. You will be glad to hear that our college primarily focuses on imparting quality education and strives to generate competent and successful professional through a strategic teaching. We encourage our students to participate in paper presentations, sports and cultural activities to enrich their mind, body and soul. The clinical skills of our students are nurtured by their postings in our fully equipped multispecialty hospital. We often do community services to the mankind and inculcate the habit of sensitive and healing touch to the patients. We assure you that you can shape up your life and career for a challenging world through our institution.
I am certain that you would find these 4 and half years the most inspiring years of your life. I hereby wish you all a very happy and academically fulfilling journey ahead.
"A Physiotherapist has the brain of a scientist the heart of a humanist and the hands of an artist".
Prof. Chandrasekar.L
MPT, Sports
Principal, Cauvery College of Physiotherapy, Mysuru
Office – 0821-2970620
Mobile – 95979-50443
Email – principalccop@gmail.com
Admission Guidelines
Course Duration
4 and 1/2 years
Eligibility/Admission Protocol
PU Examination/State Board Government/Central Board Government

Physics, Chemistry, Biology & English (Not less than 40%)

Should have completed 17 years of age as on 31st Dec of year of Admission

Should give a Medical Fitness Certificate from an authorized GMO
Specific Instructions
Course applied : Put tick mark in the box provided.
Name of Candidate : Name in capitals as per 10th Class or equivalent Certificate.
Date of birth : Write the date, month and year as per English Calendar, as per 10th class or equivalent certificate.
Age : Should be as on 31st December for the year of admission.

Gender, Nationality, Religion and Marital status should be clearly mentioned.

Caste Category must be clearly mentioned.

Write the father''s name/husband''s/guardian''s name in capital letters.

Academic Qualification : Candidates are required to fill up the qualification details from 10th class on wards.
Address : Candidate should fill up permanent address & correspondence address with phone number/mobile number/Email ID for communication, in the space provided.
Declaration : The candidate should sign at the end of the application form.Otherwise it will be rejected.
Photograph of candidate : Paste (do not staple) recent (not more than 6 months old), clearly visible and colored photograph on the space provided in an application form, admit card and hostel form.
Signature of candidate : Signature should be done in provided box.
Checklist While Submitting Application Form
A candidate has to submit the duly filled in application form along with entrance test fee of Rs. 100/- either in cash (Receipt will be given) or through demand draft in favor of ''Cauvery College of Nursing and Paramedical Sciences'' payable by any Nationalized Bank.

Photocopy of High School and Intermediate marks sheet,Transfer certificate & Migration certificate(only for out state / NRI).

In case of out state & NRI students eligibility certificate need to be applied by them only.

Passport size recent color photo should be pasted on application form.

2 self-addressed post card (10 x 4.5) envelope.

Photocopy of SC / ST / OBC Certificate / Adhaar Card / Passport (NRI).

Medical fitness certificate from Chief Medical Officer/Registered Medical Practitioner.
Mode Of Selection
All the above seats shall be filled through entrance test or interview or both conducted by the Institute.

Perusing Candidate looking for admission as per eligibility are required to appear in the entrance exam.

One Question Paper for 3 hours duration will be given for 100 marks, which includes objective type questions for 70 marks and subjective type questions for 30 marks. It is compulsory to attend all the questions.

The Entrance test will be conducted in English language only.

There will be no negative marking done.

Candidate who do not receive his / her admit card, may contact the Institute before the entrance test for duplicate admit card.

Candidate must carry HB pencil, ball point pen and admit card at the time of entrance test.

Candidates are required to enter the exam hall half an hour before the commencement of the test.

List of eligible candidates will be displayed in college website as well as on notice board.
Admission Rules And Regulations
College will not be held responsible for any postal delay.

Institute has right to reject the application form or admission of candidate at any stage, if the information furnished by the candidate is found to be incomplete/ incorrect information.

No fees is refundable if candidate withdraws his/her admission at any time after joining the course.

Candidate should bring all original certificates(10+2, T.C ) with 2 set photocopy, 5 passport sized recent colour photographs, Adhaar card and Ist installment of course fee at the time of counseling and admission.

Candidate must bring first installment fee in the form of Demand Draft. in favor of ''Cauvery College of Nursing and Paramedical Sciences'' payable at any nationalized bank during admission.

Candidate should follow rules and regulations of the college and should maintain discipline.

Candidates have to pay separately to the institution for uniform and bag.

Any disputes in regard to any matter referred to herein shall be subjected to Mysore jurisdiction only.
Our Gallery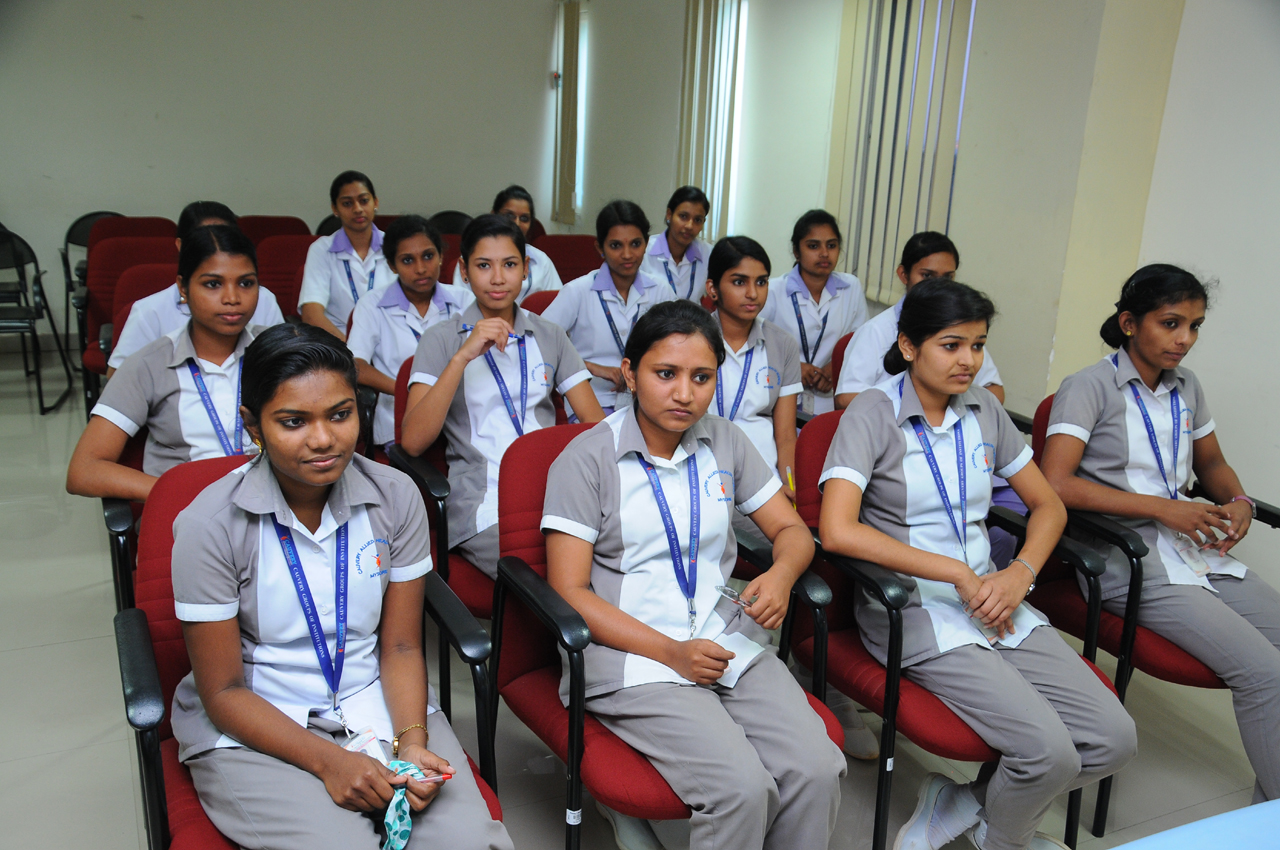 Infrastructure / Facilities
Library
Hostel
Labs
Auditorium
Hospital
Sports
Location & Contacts
Cauvery College of Physiotherapy, NO:#131/1,2D,2E,2F,KBL Layout Near Bannur, Ring Rd, Mysuru, Karnataka- 570028
Website : www.cauverygroupofinstitutions.com
Mobile Number : 0821-2970619 / 0821-2970620
Whatsapp Number : +919901636600