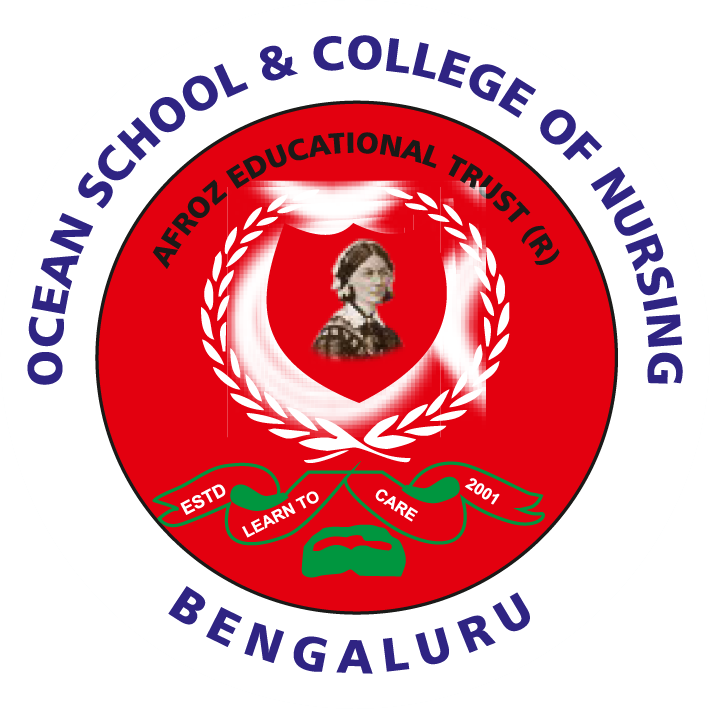 Ocean College of Nursing Bengaluru Karnataka
Yelahanka,Karnataka,India
College

Co - Education

ESTD 2005

KNC,INC

RGUHS

ENTRANCE
Interested in this College?
About Us
Ocean College of Nursing Bengaluru Karnataka Ocean College of Nursing is recognized by Indian Council and affiliated to Rajiv Gandhi University of Health Sciences. The college has a proud tradition of preparing nurses for professional practice. Additionally, the college is committed to our values of Adaptability, Caring, Excellence and Integrity. It offers Master in Nursing Sciences, Bachelor of Science in Nursing, Post Basic Degree in Nursing and Diploma in General Nursing & Midwifery Courses.
Hostel
Our hostel is a home away from home for our students. Hostel warden has been trained to ensure hostel students are taken care of. Round the clock security ensures no trespassers will be allowed and hostel premises are safe. The hostel kitchen follows strict hygienic practices and only nutritious and whole food meals are served to hostel wards.
Principal's Message
In the 21st century, the health challenges facing the nation have shifted dramatically. The need for personal connection, listening and caring has never been higher. Nurses consistently rank first in every consumer poll as the most trusted professionals. Nursing is an extremely demanding occupation that encompasses a wide array of challenges. It can also be a very rewarding profession for those suited for it.
Caring for ailing patients is more than just a career – it is a calling. As patient needs and care environments have become more complex, nurses need to attain requisite competencies include leadership, health policy, system improvement, research and evidence – based practice and teamwork and collaboration as well as competency in specific content areas such as community, geriatrics etc.
Competencies also must move from task – based proficiencies to higher – level competencies that provide a foundation for care management knowledge and decision – making skills under a variety of clinical situations and care settings. Hence improving the education system and achieving a more educated workforce is the need of the hour. Nurses with higher education are needed to teach future generation of nurses and to conduct research that becomes the basis for improvements in nursing science and practice.
Admission Guidelines
Application forms for admission may be obtained from the colleges on payment of Rs 250/- by cash or Rs 250/- by DD drawn in favour of Ocean College of Nursing, along with a self addressed stamped envelope for the value of Rs 10/-.
The candidates are asked to read the prospectus before filling up the application. The details in the Application form must be filled carefully in block letters in english and in the candidates own handwriting. No column should be left unfilled, no overwriting, additions or deleting are permitted. If any of the particulars are found to be fraudulent, the candidate will be summarily dismissed and crminal action will be instituted against him/her.
Each course must have a separate application form. And the completed application form shall be sent to the college along with xerox (photostat) copies of relevant documents.
Placement
Sagar Hospitals
Apollo
Fortis
ColumbiaAsia
Manipal Hospital.
HCG Hospital
Narayana Hrudayalaya Hospital
Infrastructure / Facilities
Library
Hostel
Labs
Auditorium
Hospital
Sports
Location & Contacts
#89 THIRUMENAHALLI 2ND STAGE, AGRAHARA LAYOUT, NEAR GOVT.HOSPITAL, JAKKUR POST,YELAHANKA HOBLI, BENGALURU-560064.
Website : www.oceancollegeofnursing.com
Mobile Number : +91 9448230084
whatsapp_number : +919901636600