JSS college of Pharmacy Mysore
Mysore,Karnataka,India
College

Co - Education

ESTD 1980

PCI,AICTE

RGUHS,BEAD PHARMACY

NAAC 'A' Grade

ENTRANCE
Interested in this College?
About Us
JSS college of Pharmacy Mysore Karnataka Jagadguru Sri Dr. Shivarathri Rajendra Mahaswamjigalavaru, the 23rd pontiff of Sri Suttur Veerasimhasana Math was the architect and founder president of JSS Mahavidyapeetha, which came into being in 1954. With the divine inspiration of Sri Swamiji, the JSS College of Pharmacy was started in the year 1973. JSS College of Pharmacy is a constituent college of JSS AHER, Mysore. The institution offers B. Pharm (4 years), Pharm. D (6 years), Pharm.D (PB) (3 years), M.Pharm (2 years) in twelve specializations and Ph. D. The college is recognized by Government of Karnataka and approved by Pharmacy Council of India (PCI), New Delhi and All India Council for Technical Education (AICTE), New Delhi. It is accredited to National Board of Accreditation (NBA), AICTE, New Delhi. It has committed itself to become a center for excellence in pharmaceutical education and research and be a leader in the field of pharmaceutical sciences including pharmacy practice with the objective of strengthening the health care of the country. The college is situated at Sri Shivarathreeshwara Nagara on Mysore-Bangalore highway opposite to JSS institutions campus on a spacious area with lush green garden, cool weather, with spacious building with all educational facilities. The college is about 4 Kms from centre of Mysore, 140 Kms from Bangalore and is well connected by road, rail and air.
Facility
Library
Laboratories
Auditorium
Wi-Fi
ATM
Sports
Hostels
Placement
Campus Placement by Novo Nordisk, Bangalore - 2019
Covance, Bangalore - 2019
Novartis, Hyderabad - 2019
Dr. Reddy's Laboratory, Hyderabad - 2019
Indegene, Bangalore - 2019
Placements (Dr.Reddys) - 2018
Placements (Novartis) - 2018
Placements - [2015 - 16]
Vision & Mission
Vision
To be a leader in pharmaceutical sciences & pharmacy practice education, training, research and continuous professional development for pharmacists and Pharmaceutical Scientists providing competent patient care and nurturing drug discovery and development.
Mission
To impart knowledge, develop skills and competencies in students in pharmaceutical sciences and pharmacy practice
To develop and advance the knowledge, attitude and skills of pharmacists and faculty members who can provide comprehensive pharmaceutical care to patients, improve patient outcomes, and meet societal needs for safe and effective drug therapy
To develop, promote and nurture research activities in pharmaceutical sciences and pharmacy practice and translating research into healthcare
Principal's Message
Thank you for visiting the JSS College of Pharmacy, Mysuru web site. As Principal, I am proud to share information about our programs, staff and students. I invite you to explore this website to learn about the programs we offer.
The college is a constituent college of JSS Academy of Higher education and Research (JSS AHER) formerly known as JSS AHER, Mysuru. Since 1973, the college has made great strides in meeting specific needs of both students and patients, exploring new frontiers in pharmaceutical sciences and practice. As stated in the vision and mission statement of the college, we strive for high quality education, training and research focused on lifelong learning.
The College of Pharmacy continues to build on its rich history and tradition of excellence by offering quality degree programs that provide students with the necessary education and skills, supplemented by excellent infrastructure and instructional facilities, for their careers in pharmacy. The college offers a comprehensive package of education and training opportunities beginning with the Diploma in Pharmacy (D.Pharm), Bachelor of Pharmacy (B.Pharm), Doctor of Pharmacy (Pharm.D.), Master of Pharmacy (M.Pharm) and Doctoral (Ph.D.) programs. Post graduate diploma and certificate courses are also offered to the students as add-on to the regular programs. The college houses some of the nation`s recognized researchers and educates some of the brightest students nationally and internationally. Our stability and educational excellence is apparent in numbers.
We actively seek students who best personify our core values - Innovation, Leadership, Excellence, Integrity, Respect and Professionalism. Without our core values, the college could easily be a college much like any other. Instead, we continue to grow and thrive. We are a renowned leader in pharmaceutical education, research and practice. This benchmarking has been recognized nationally in the form of accreditation by National Board of Accreditation (NBA), India. As a part of global recognition, the Pharm.D. Program has been certified by Accreditation Council for Pharmacy Education (ACPE), USA. We are presently ranked as top second college in the country for Pharmacy (Source: Careers 360 survey, May 2015). We remain committed to providing our students with the best education possible in a setting where every student matters.
ICT (Information Communication and Technology) and innovative pedagogy have become an integral part of quality education. Effective use of ICT enables educators to involve all the students in the process of learning. We are dedicated to implement latest tools and techniques to deliver quality education. In this direction, the college is implementing Learning Management system (LMS) from September 2015. This will enable the students to be a part of the education process beyond the classrooms.
I encourage you to explore our website, contact us if you have questions, and consider us in helping you achieve your professional goals.
Dr. Pramod T M Kumar
Departments
Pharmaceutics
Pharmaceutical Chemistry
Pharmacology
Pharmacy Practice
Pharmacognosy
Our Gallery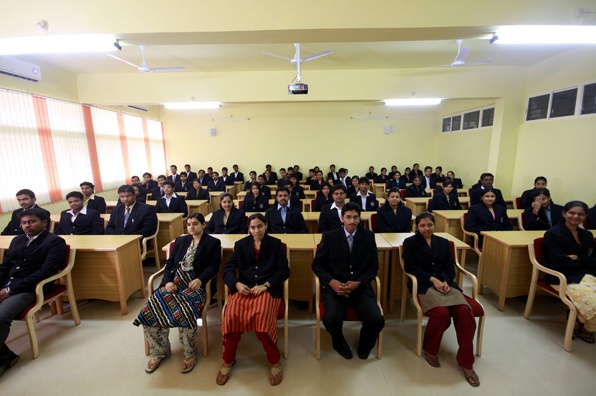 Infrastructure / Facilities
Library
Hostel
Labs
Auditorium
Hospital
Sports
Location & Contacts
Sri State Highway 17 Near Fire Station, Shivarathreeshwara Nagar, Mysuru, Karnataka 570015
Website : www.jssuni.edu.in
Mobile Number : 0821 254 8353
whatsapp_number : +919901636600